Backed by Uludag Textile Exporters' Association (UTIB), Turkey was traditionally number-one national pavilion at the show.
International Trade Fair for Home Textiles, Floor Coverings and Interior Furnishings Heimtextil Russia took place in Moscow on September 24 – 26, having opened with great success the autumn season 2014 in home textile and interior design industry. The leading textile trade fair of Russia was organized on its traditional grounds – the exposition of Heimtextil Russia 2014 with the total area of 19 520 sqm took place in Pavilion 1 of IEC Crocus Expo. During the three days 15 873 professional visitors managed to see the products, presented by 319 exhibitors from 23 countries.
Heimtextil Russia is a trade fair with the International status. This year companies from Austria, France, Germany, Greece, India, Italy, Korea, the Netherlands, Saudi Arabia, Spain and other countries participated in the trade fair. National pavilions of Germany, China, Pakistan, Portugal, Taiwan and Turkey as always became real embellishment of the fair. Traditionally the exposition of Heimtextil Russia is formed by both foreign and Russian companies. Such leading players of the Russian market as Hometex, DECOLUX, Ortgraf, Protos Textile, Luxberry, Neutex, Art Deco, Monolit textile union took part in Heimtextil Russia 2014. Among the foreign exhibitors one can point out Hefel (Austria), AMR (Portugal), Zorlu (Turkey), Reig Marti (Spain), DECHELETTE-MALLEVAL (France), GM Syntex (India), Sharda Exports (India).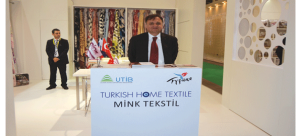 Uludag Textile Exporters' Association (UTIB) led the way to most of the Turkish exhibitors at this important show. The Turkish companies exhibited a broad range of home textile and household textiles at the show.
Eugen Alles, General director of Messe Frankfurt RUS, organizing company of Heimtextil Russia, said: "Heimtextil Russia is one of the biggest and oldest projects of Messe Frankfirt RUS. It is constantly growing and developing being ahead of its time. Heimtextil Russia is distinguished by the extensive Fringe program, which comprises workshops and lectures of the famous Russian and European designers, as well as professional design contests. The trade fair develops new product groups and co-operates with industry professionals. Heimtextil Russia is a separate world, reflecting the latest actual trends and decisions of textile industry and opening new prospects for business development of Russian and International participants".
Heimtextil Russia collaborates with different companies and attracts famous International brands as sponsors and partners of the fair. This year Heimtextil Russia continued co-operation with Dr. Deco, Russian representative of SUPERtextil Holding, which was General sponsor of the fair. Multibrand company Solo Office Interiors provided furniture for VIP Lounge and Business Lounge. Hellenic Goods company, Food sponsor of Heimtextil Russia 2014, treated fair participants with Greek delicacies. ELLE DECORATION, the leading Russian magazine on Interior design, has been the irreplaceable General Media partner of the fair for three years. Also this year Heimtextil Russia started to co-operate with Epson company, Technical sponsor of the fair.
In 2014 the product group of wallpaper and wall coverings was highlighted separately at Heimtextil Russia 2014, and it became the key theme of the trade fair. New specialized pavilion Wallpaper Bar was presented to the visitors in Hall 2. Wallpaper companies Opus, Bartex, Empire Design, BelloCasa, Italreflexes, Artville demonstrated the best collections of wallpaper and wall coverings. Such leaders of wallpaper market (and loyal participants of Heimtextil Russia) as KT Exclusive, LeDimore, Pan-El were presented in the main exposition of the fair.
To support the theme of wallpaper and wall coverings design contest "Illusion Inside" on the best wall decoration was conducted within the framework of Heimtextil Russia 2014. The first stage of the contest was conducted with the support of Pinwin.ru portal.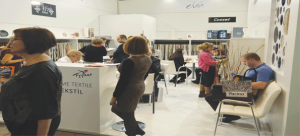 INTERIOR+DESIGN magazine was Main Media partner of the contest; Tefal, BOCCHI, Hellenic Goods, Neutrogena Norwegian Formula®, Le Petit Marseillais® and Clean&Clear® brands as well as International Design School and Higher School of Environmental Design of Moscow Institute of Architecture (State Academy) were partners and prize sponsors of the contest. Participants had to send wallpaper or textile print based on Heimtextil Trends 2014/15 "Progress! Revival!". The Jury Board defined three finalists, who took part in the second stage of the contest: wall decoration in a special trend installation "Illusion Inside" at Heimtextil Russia 2014. Irina Vitiunina (Nizhny Tagil), Olga Ermolina (Minsk, Belarus) and Irina Okolesnova (Saratov) became the finalists of the contest, and in the visitors' sight they implemented their vision of wall decoration, using fabrics, wallpaper and paints, kindly provided by the companies, sponsoring the trend installation: Bharat Silks (Russia), Ernst Feiler (Germany), multiSTiQ International Coating B.V. (the Netherlands), PROTOS &Co (Russia), SUPERtextil (Turkey), TAC Tekstil (Turkey), Artville (Russia), Karo (Russia), S Textile (Russia), Muza Noche International (Russia), Tkani LifeStyle (Russia), HAKS/Sotex (Greece), Little Greene (UK). Olga Ermolina's work was recognized the best one and in January 2015 she will go to Heimtextil, the international trade fair for home and contract textiles in Frankfurt. Irina Vitiunina and Irina Okolesnova were recognized the second the third correspondingly. The three winners received many different prizes from the con – test sponsors. The formal award ceremony was followed by a champagne reception. Not far from the trend installation "Illusion Inside" one could see Top 10 Gallery with the best 10 works, defined after the first stage of the contest. Images for Top 10 Gallery were printed on textile and photopaper by Epson company, Technical sponsor of the fair.
Another professional contest for designers and decorators "Textile in interior" took place on the grounds of Heimtextil Russia 2014. The contest was organized by General sponsor of the fair SUPERtextil holding. Designers from all over Russia came to the trade fair to make booth decoration with textile. The winner of this contest will also be awarded with a trip to Heimtextil 2015 in Frankfurt.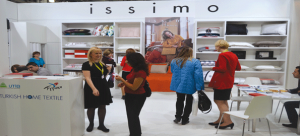 Heimtextil Russia 2014 is a real feat of textile design and colorful trends of the Future, which lasts for three days! To continue the tradition of the last year, we again united the Concept Area with the Fringe program. Our long-term partner KAVER DESIGN studio decorated the Concept Area according to Heimtextil 2014/2015 trends. Sponsor of the Concept Area was KT Exclusive company. This year the Fringe program received the name of Heimtextil Russia Design Academy. In these unusual installations in the shape of big futuristic cubes European and Russian designers and industry professionals performed with their presentations and lectures: British design studio FranklinTill, Russian artist Pavel Kaplevich, Russian designer Milla Rezanova, International Design School, KT Exclusive. Part of the lectures was organized by ArchDialog communication agency. Visitors of the fair could also take part in the workshops "Sketches for inspiration" by Milla Rezanova and workshops on creation of paintings on water for textile by Ebru Art. It is worth mentioning that all lectures and workshops of Design Academy were a great success with the fair visitors. Station of textile print technology by Epson and 3D print by Globatek.3D worked in the Concept area during the fair. Near the Concept Area visitors could discover Design Library, where they had an op – portunity to find actual information on interior design in specialized magazines and leaflets.
Heimtextil Russia is a professional exposition for pro – fessional visitors; it is the best collections of home and interior textile and the most topical textile trends of the future. We are looking forward to seeing you at Heimtextil Russia 2015!
The next edition of Heimtextil Russia will take place on September 23 – 25, 2015 in IEC Crocus Expo, Moscow, Russia.