Akarca Textile produces fabrics for decorative draperies, having its own designs and works with authoring companies in abroad.
Products that were designed by the company on the patterns purchased from abroad are reinterpreted and than sold to 70 countries for draperies. Irfan Bahadir, General manager of Akarca Textile, located in Bursa, informed about his company and his views on COHO fair.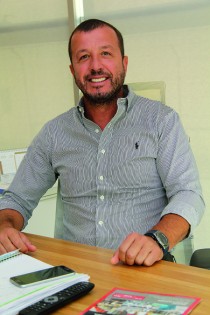 What is your position in the contract business as Akarca Textile?
We produce mainly fabrics for decorative draperies. Our product range covers varieties such as fabrics for background, for blinding and other kinds demanded by contractors. Actually, we produce fabrics for authoring companies in the world. They offer their collections as a book, and then we make annual contracts with them. We export to 70 countries in total.
How do you develop your products? Do your own patterns interpret in house?
Supply and demand is important in this matter. Mostly we buy patterns from abroad and interpret them in our design studio. The motives are then colored before offering to our buyers. Some of the authoring firms demand us when they saw our patterns in fairs. We may re-interpret some of our motifs for our buyers. We adjust the sizes, colors and structures of patterns as requested.  We do coupon works.
How are your activities in export markets?
Exporting is a must in our business. You have to follow developments in foreign markets and seek for new motifs, qualities and yarns to produce new offerings for your customers. Our products are exported to European markets, Russia, Middle East, Australia, New Zealand, China, Japan and Thailand, totaling to 70 countries.
Which markets do you want to enter?
We also were affected negatively by the problems in other sectors in the world. However, our business was not so bad. We headed to American and Canadian markets, rather then European markets. We keep our studies in these markets. But, European market is the most important. Fairs and visiting buyers are important in this regard. We have been in abroad at least three months each year.
What do you think about the future of your industry?
The sector will maintain its position in the future. Especially our proximity to Europe is important. We can produce every product that has been produced in Italy. We make quality fabrics. The image of Made in Turkey has been settled.
What do you have to say about COHO fair's impact on your industry and the future of the fair?
At this first step, we do not expect much but it should be emphasized that the fair will make great strides in the future. It is especially beneficial for businesses in Bursa, because demand in contract business sector is on the rise. I think that, technical fabrics will be on the agenda more in the future. Customers are demanding special fabrics, having certificates for certain specifications, such as flame-resistant, anti-bacterial etc. We are now able to produce these kinds of fabrics in Bursa. So, this is another plus point for this fair. We are going to take our place in COHO fair with our special products used in the hotel industry.
#Akarca #Textile #fabrics #contract_business #export #European #market #COHO #fair #industry