Can you mention the establishment story of the Brillant brand?
The Brillant brand was registered in 1994. We have made our own brand so that branding is important both at home and abroad. In 1990, we were the leader in the sector with the import of guipure. Then we realized the plan to manufacture this product in Turkey instead of importing it. We invested in machinery to produce French guipure and macramé in our Beylikdüzü factory in Istanbul and became the world's leader in guipure production in about 2 years. We launched our first product on the market as 'Beydemirler Belt' band. We chose the French word 'Brillant', which means 'diamond' that, can be said easily in every language, and we have been presenting our products with this brand for 28 years.
Brillant became a universal brand after combining quality and brand. We are also a well-known brand in the world. You can find our brand in every corner of Turkey.
What are the policies you have determined to increase customer satisfaction?
In order to increase customer satisfaction we attach importance to quality. Our customers should use the product they bought for years. We try to provide brand reliability and customer continuity in return for quality products.
What products are in your brand's product range?
As Brillant brand, we produce curtains, tulle, backdrop, embroidered tulle, digitally printed products, blinds, roller blinds, zebra blinds, vertical curtains, carpets and rugs in the field of home textiles.
Investments in home textiles have increased in recent years. What are your most preferred products?
As a home textile manufacturer, we have been investing in our country for more than 50 years. We are closely following the innovations abroad and renewing our machinery. We apply technological developments in our company. We are the leading manufacturers in Turkey in this field with our team following the innovations in our R&D and P&D departments and with our strong machinery.
We are the first company in Turkey to produce digitally printed carpets, and our carpets are highly preferred in this field with their economical, eye-catching patterns, antibacterial and stain-proof features.
As of 2021-2022, we started to produce the most demanded products in the curtain sector with our wooden-looking blinds production. We can also print the desired pattern on the blinds with our high resolution production quality. This is how we can work on special projects.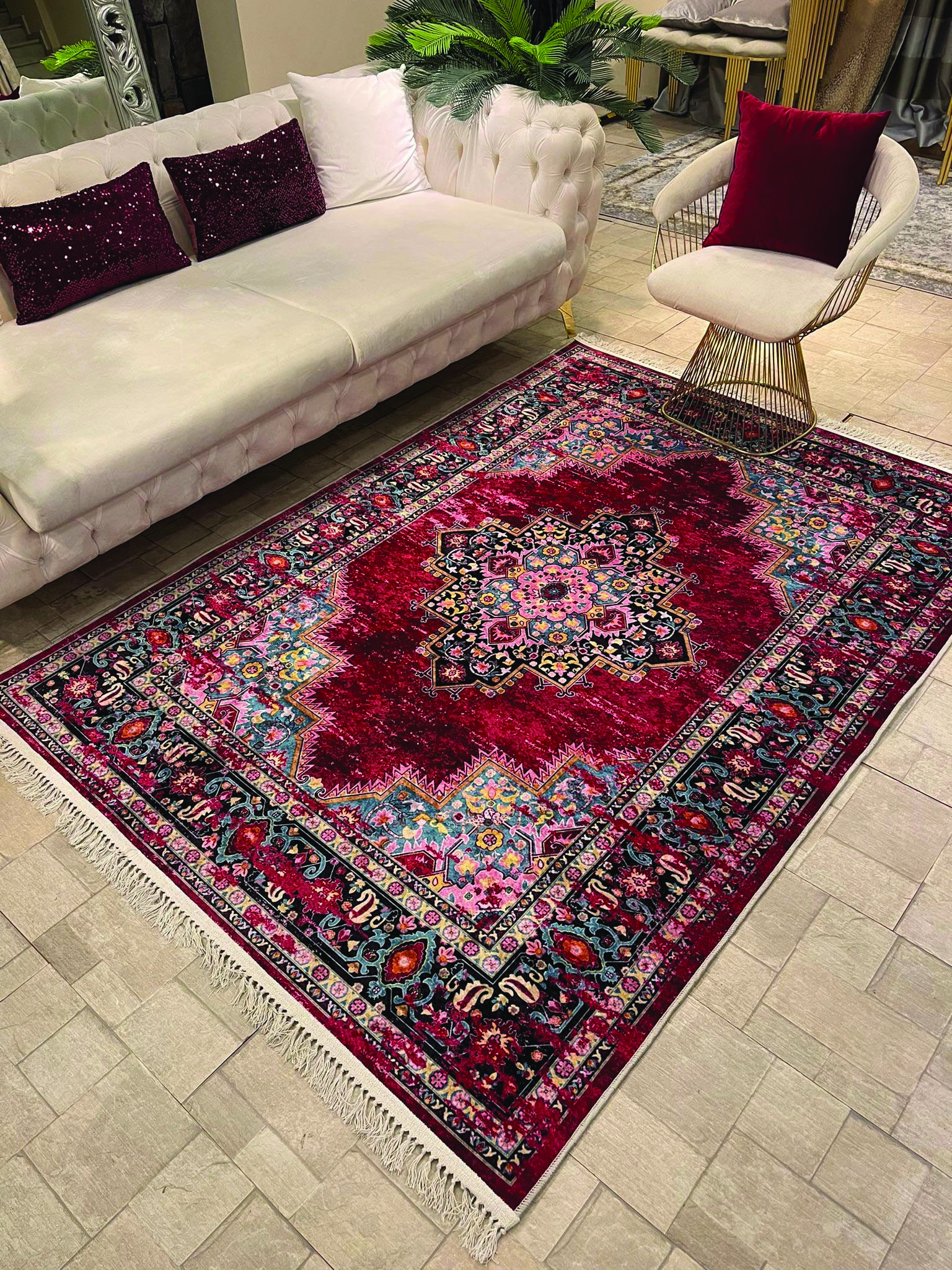 Unlike your competitors, to what do you owe your long-term stable growth volume?
Brillant brand is the first brand to be remembered in home textiles. We have been producing, marketing and selling home textiles for half a century. Other companies, on the other hand, continued to operate in the field of marketing and sales by outsourcing the production.
Our firm has been operating with the production of flat weaving, shades, and blinds in home textiles and producing carpets for 10 years with embroidery machines. We are Turkey's largest home textile manufacturer in this field. Our export activities constitute 70 percent of our sales. Our aim is to provide export income to the Turkish economy by producing value-added home textiles and to maintain our leadership in our sector.
Are you thinking investing in different home textile areas?
With our current investments in home textiles, we have production in many areas from curtains to carpets, from artificial leather to velvet fabric production. In the field of home textiles, we produce in all areas, including printed wallpaper, carpets, curtains, bedspreads, tablecloths, blinds and embroidered groups. New technologies are added to these investments every year.
Antibacterial, light, anti-allergic and washable carpets are being highly preferred. Do you aim to present your products to the users of different countries in the international arena?
We have brought a new understanding of carpet in Turkey with antibacterial, light, anti-allergic and washable carpets. We make luxury products that are easily accessible. Our customers, who used to visit many stores in order to catch the curtain-carpet harmony, can now get all their needs easily and at affordable prices with Brillant.
We are exporting our products with the 'Brillant' logo. We export on a large scale to the Middle East, North Africa, Europe, USA and even Australia. We are taking part in the Domotex carpet fair with our wide stands.