The online exhibition of interior fabrics, home textile and decoration materials took place from 15 to 17 September 2020 for the first time in Russia. Heimtextil Russia.Digital edition 2020 presented 96 exhibitors from 17 countries, 2 virtual conference halls, 98 online speakers, including those of the exhibition's partner – Espocada Trend Week'21, 3D Trend Zone from participants of the UTIB, Turkish textile association.
Heimtextil Russia.Digital edition 2020 became a platform for exchange of professional experience, expertise, and ideas. Although the exhibition lasted for 3 days, the organizers opened an access to the virtual booths and records of the business program till 30 October 2020. Thereby, the buyers and designers got an opportunity to attend virtual booths, find new business contacts, as well as listen to recorded Russian and foreign speakers during October.
Exhibition exposition
The virtual exposition presented 96 companies from 17 countries. 5,281 professionals attended the exhibition in three days of the platform's operation.
Companies from Russia, Italy, Belarus, Germany, India, Canada, Portugal, Turkey, Uzbekistan, China, Azerbaijan, Belgium, Austria, Iran, Netherlands, Tajikistan and Thailand presented their virtual booths, including: Morbern Europe, ZORLUTEKS, Lasa Home, Keshardeo Combines, Duvetta, Amalia Home Collection, Berteks, KT Exclusive, Issimo Home, Dr.Deco, Lenta, etc.
Leaders of the Russian market of interior fabrics, home textile, paints, wallpapers and setting for household became a part of virtual format; the participants included: Nordtex, Treartex, TDL Textile, Espocada, Decaro, Casablanca, Empire Decor, Tikkurila, Uyut, S Textile, and many more.
One of the official partners of the exhibition was Manders, a supplier of English paints Farrow&Ball, Sanderson and Zoffany, molding assemblies and curtain rods Orac Décor, French premium-class paints Argile, environmentally safe paints and wall papers Little Greene, collections of textile, wall papers, Designers Guild home accessories, and other globally known brands of premium segment.
A longstanding exhibition partner and organizer of the Turkish pavilion – Uludag Textile Exporters Association (UTIB) – presented 3D Trend Zone 360° was specifically created for Heimtextil Russia.Digital 2020! The exposition focused on products of 19 companies – leaders of the industry, which can be seen in detail on 3D mode. The exposition will operate round the year.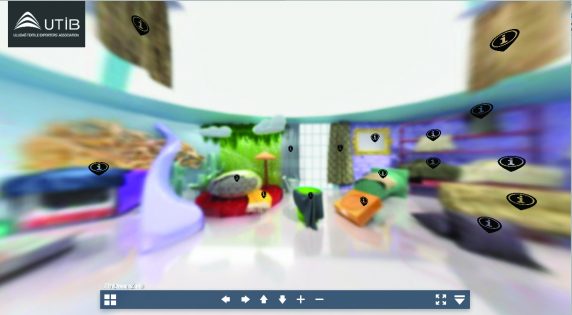 Business Program
The Business program of the exhibition was held in a hybrid form. Speakers took the floor in specially equipped studio; broadcasting was organized from 2 thematic halls: Business Space and Design Space. In 48 hours of broadcasting, the speakers discussed the most acute issues of the Russian consumer and interior decoration industry.
Representatives from Leroy Merlin, Ozon, Yandex.Market, Maxidom, Raiffeisenbank, etc. discussed the future of the Russian retail market and marketplaces in the post-pandemic period. INFOLine analytical agency was a co-organizer of the Forum. Since in 2021, a Federal Law on labelling of household, bath and kitchen linens will come into force of no less importance was the topic of textile articles labelling, which was discussed during the round table. Co-organizer and partner of the roundtable became a business Logistics ICC.
In the Design Space hall, trend designers from the Netherlands, Denmark, France, and Italy took the floor. Russian speakers shared expertise in sales, decorative products promotion, and technologies.
The official partner of the exhibition, Espocada Trend Week'21, had 3 intensive days of speeches from world experts of the textile market.
In 2021, the exhibition will take place in traditional form in Expocentre, International Exhibition Center from 14 to 16 of September.