Porland, the leading brand of porcelain industry, is expanding its home textile category to bedroom textiles. In the new category, quilts, pillows, and mattresses suitable for different preferences such as goose down, bamboo, microgel, and 100 percent cotton, meet with customers at selected stores of Porland.
In addition to porcelain, Porland offers more than 20 thousand products, more than 100 collections and patterns in all categories needed for your home, enriching the home textile industry with its new category. In addition to table, living room, kitchen, and bathroom textiles, Porland adds white bedroom textile products to its wide range of products, bringing quality and elegance together with the nobility of white.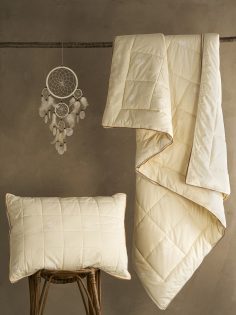 The product range is expanding
Porland acts with the aim of meeting the needs of its customers in every category of home; It offers thousands of product alternatives to its customers under tableware, kitchenware, home decor, bathroom, and bedroom categories. Finally, Porland, expanding its bedroom category by adding quilts, pillows and mattresses among its products, will introduce its quality to its customers in white textiles. Quilts, pillows, and mattresses made from goose down, bamboo, microgel, and 100 percent cotton will offer Porland distinction to those who prefer the purity of white in their bedrooms.
Healthy, hygienic and comfortable sleep
The lightest, most natural, healthiest, and softest material in the world, the goose feather filled double quilts and pillows provide a comfortable sleep environment with their light and thin structure, while maintaining body temperature, even at low temperatures.
Providing a healthy sleep by preserving its volume for many years with its special fine nanofiber filling, 100 percent polyester microgel quilts and pillows promise hygiene and comfort with their antibacterial and antiallergic properties. 100 percent cotton duvets and pillows, on the other hand, lock excess moisture by giving a feeling of coolness.
Porland white home textile products are available at selected Porland stores and at www.porland.com.
#porland, #hometextile, #textile, #linens set, #bedroomtextiles, #pillow, #quilt, #kitchentextiles, #bathtextile, #homedecoration,