Following its UK debut in March, Turkish luxury lifestyle brand Haremlique Istanbul announces the launch of its high-quality bed linen collection at Harrods online.
Offering a stunning range of bed linens, Haremlique Istanbul is available for purchase from the Harrods website and the store in London. Designed and manufactured in Turkey, the collection can be customised with the option of personalised and made-to-measure linens.
The strength of the brand comes from the combined skill and extensive experience of the two founders. Founded in 2007 by CEO, Caroline N. Koç, who comes from a family with a century-long history in the textile industry, and Partner and Creative Director N. Banu Yentür, Haremlique Istanbul takes inspiration from the modern city of Istanbul as well as the skill of local artisanal talents, and combines this with the opulence used in Ottoman design.
Some of the collection highlights available exclusively online at Harrods include the Pierre Loti range which takes inspiration from elegant Ottoman designs, impeccably crafted from the finest Egyptian cotton; Secret Garden featuring an imaginary palace garden created using a toile de jouy technique; and Tunel, a more contemporary aspect of Haremlique Istanbul's offering. The collection takes its name from the Tunel region in Istanbul and the pieces embody the dynamic and historic values of the city.
Caroline N. Koç, founder of the Haremlique Istanbul brand stated that they are delighted with their presence in the U.K. and continued as follows: "As a Turkish home textile brand with a strong overseas expansion strategy, we put our best effort to use the highest quality materials and support local production. We have opened our first overseas stores in Kuwait and Riyadh. We then entered the US market at New York's famous department store Bergdorf Goodman, a 118-year-old brand located on 5th Avenue. Our products are also available at the Bloomingdale's Dubai. Almost three years ago, we opened our first shop in Miami, located at the Four Seasons Hotel at the Surf Club. Recently, we opened a corner in the Bed & Bath section on the third floor of Harrods, one of the most exclusive department stores in England. Our products are available online through harrods.com. Our customers' enthusiastic feedback and interest have made us very happy and encouraged us on pursuing further activities to maintain our growth strategy in the UK market. I believe that Turkish textile brands always had great potential globally and can create high value added projects. As long as we keep up with the major trends regarding environmental friendly operating processes such as sustainability and Green Production."
PRODUCT HIGHLIGHTS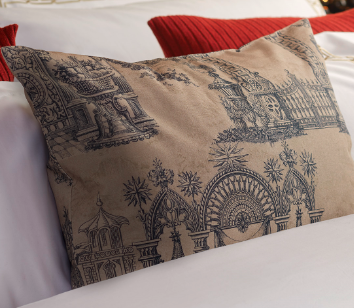 GATES OF PARADISE
Gates of Paradise combines art and history… This design was inspired by the Muhammediye Gates. The pattern includes gates decorated with fruit baskets, fountains, garlands and diamond-like details. In addition, an imaginary garden is featured behind these gates.
TUNEL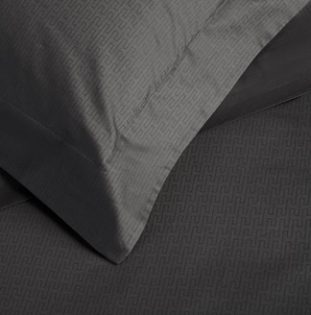 A more contemporary aspect of Haremlique Istanbul's offering, the Tunel collection, used in bed linens, quilts and cashmere throws, reflects a cleaner, minimal and urban style. Taking its name from the Tunel region in Istanbul, the pieces embody the dynamic and historic values of the city.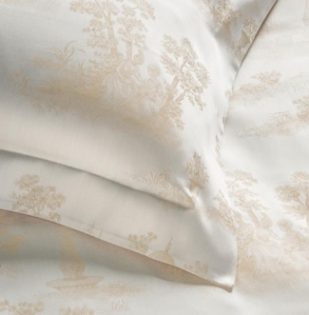 HASBAHCE
Hasbahce is an exclusively designed "toile du jouy" depicting scenes from the Ottoman palace. The beautiful gardens, impressive architectural details and impeccably built fountains were created by the famous miniature artist Taner Alakuş and have been used as beautiful details across bed linens, quilts and makeup bags.
SECRET GARDEN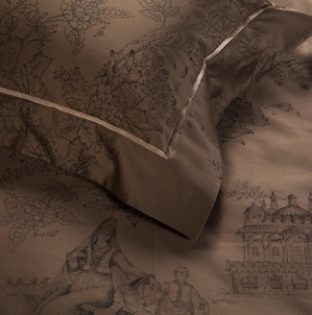 An evolution of the Hasbahce "toile du jouy", the Secret Garden design depicts an imaginary palace garden and was created using the same toile de jouy technique. Used across bed linens, quilts and shams and created in 100% Egyptian Cotton, Secret Garden features scenes detailing the Ottoman Palace's mystical atmosphere.