Seven country and region pavilions take part. Led by UIB (Uludag Exporters' Association), 18
Turkish firms will showcase their products on a total area of 701 sqm.
* A full array of home textile products in distinctive product zones
Intertextile Shanghai Home Textiles is the gateway to Asia's home living market. It is Asia's leading home textile event which is held from 23 – 26 August, 2017 at the National Exhibition and Convention Center (Shanghai), Shanghai, China. It is a dynamic platform for industry professionals to source and to gain design inspirations through the conveniently structured product displays and the fringe program. In 2016, 1,158 exhibitors and 37,779 visitors joined the event. This year among the over 1,200 exhibitors, seven country and region pavilions as well as four domestic regional pavilions are formed to maximize companies' exposure to visitors. The international pavilions which include Belgium, India, Korea, Morocco, Pakistan, Taiwan and Turkey are bringing their specialized products to the show, while domestic pavilions composed of Haining, Shaoxing, Tongxiang and Yuhang present even more fabric options to buyers.
UIB (Uludag Exporters' Association) organizes the Turkish national participation in this important event. There will be 18 Turkish exhibitors and a 25 sqm info stand as well as a 50 sqm Turkey booth to promote world famous Turkish home textiles with the concept and motto of "Turkey – Discover The Potential" with reflections of Turkish cultural values in such areas as art, philosophy, sports, cuisine and tourism.
The seven pavilions have been long-term participants at the fair. Indian exhibitors, for instance, are specialists in rugs, bath mats, throws, shawls, handloom carpet and handmade rugs predominantly made out of 100% cotton and also blended fibers. Korean companies at the fair specialize in fashionable microfiber fabrics, polyester blankets and curtain fabrics, and will also demonstrate a full range of machine-made natural dyed sewing products. Exhibitors in the Pakistan Pavilion excel at bedding products, and will feature bed sheets produced with 100% combed and carded cotton or bamboo cotton. Pakistani companies have also developed a reversible stitching technique for bed sheet sets that helps save water and electricity. The Taiwan Pavilion will showcase eco-friendly fabrics and yarn with features including anti-odor, anti-ultraviolet, black-out, fire-retardant and fireproof, water repellent and more.
The presence of non-Asian pavilions including Belgium, Morocco and Turkey further reveals exhibitors' enthusiasm towards the Asian market and their recognition of Intertextile Shanghai Home Textiles' leading position in the region. The Belgian group excels at upgrading fabrics with backing, laminations and fire retardant properties, while pavilion members will also present quality fabrics which are widely applied on decorative pillows, lampshades and other hospitality upholstery. The Morocco Pavilion comes this year to display their uniquely designed fabrics with embroidery, geometric shapes and ornamentation. And the Turkey Pavilion joins again with quality products including towels, bed sheets, curtain fabrics, bathrobes, furnishing articles, curtains, interior blinds, bed valances and upholstery fabrics with original designs and made with eco-friendly technologies.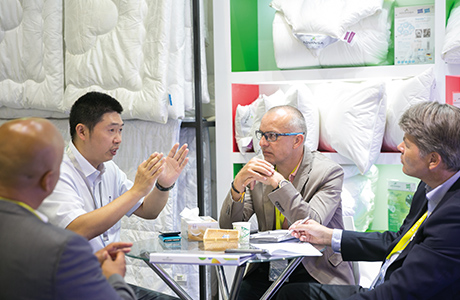 A full array of home textile products in featured product zones

The wide range of home textile products under featured product zones is one of the reasons the fair attracts buyers from around 100 countries. The show features a strong lineup of worldwide upholstery fabrics suppliers like Alhambra, CASAMANCE, Designers Guild, JAB Anstoetz, Mark Alexander, Prestigious Textiles and Zinc Textile in the Editors Zone, while other renowned brands such as Aico Home, Culp, D Décor, GM Syntex, Enzodegli Angiuoni, Haining Qianbaihui, Hexin, Huatex, Maya Fabric and Yuanzhicheng will be in the Upholstery Zone.
A variety of machine-made and handmade carpets from Afghanistan, China, India and Pakistan are also on offer. Among a large number of their quality compatriots, Chinese suppliers strive to impress customers by incorporating innovative materials into their carpets. Carpet producer COC Group uses advanced production technology to produce carpets made from various materials such as pure wool, acrylic wool, wool-polyester, polypropylene monofilament yarn and spun silk. In 2014, they were authorized by DuPont to apply Sorona fiber to their carpets. They will be promoting their new carpet collection with soft texture, durable color and dirt resistance properties in the fair.
Haima Carpet is another exhibitor who endeavor to satisfy clients by providing personalized products. Being one of the leading carpet manufacturers in China, Haima sells their carpets to more than 50 countries over five continents. Haima carpets are also installed in over 1,000 worldwide five stars hotels. This year, they will be featuring two major carpet collections including handmade New Zealand wool carpets and raw silk nylon carpet.
In response to the prevalence of the Smart Home concept in China, leading industry experts like Somfy, Shidian, Huatong, Nanhai Yongfeng and Xu Sheng will present their advanced sun protection system and electric curtains. Other fine product producers including wallcoverings and bedding & toweling can be found as well. Digital printing factories such as DIGITEX and MS Printing Solutions will also introduce their latest printing technology. Four domestic industry experts including Wuxi Pengda, All-Nice Coated Production (Suzhou), Kunshan Caidu and Shanghai Twinjet will demonstrate the printing process onsite in the Digital Printing Micro Factory. Buyers can also source avant-garde and exclusive textile collections from global textile design studios in the Textile Design Zone.
Intertextile Shanghai Home Textiles – Autumn Edition is organized by Messe Frankfurt (HK) Ltd; the Sub-Council of Textile Industry, CCPIT; and the China Home Textile Association (CHTA).
2018/19 China Home Textile Trends
This year, trend area will be organised by "China Home Textile Association, The Department of Home Textile Trend Research and Promotion" and "Concept & Style Fashion Project Group Italy".

They shared their knowledge, their inspirations and exchanged their visions of trend evolutions considering consumer demand, retail expertise and contract market or new technologies. Four themes have been developed to express this spirit in 2018 home textile trend, which are: Down To Earth, Connected Senses, No Borders and Re-Thinker.
"China Home Textile Association, The Department of Home Textile Trend Research and Promotion" and "Concept & Style Fashion Project Group Italy" in-charge of the concept, design and set-up of the trend area, and will share the 2018 home textile trend to public during Intertextile Shanghai Home Textiles – Autumn Edition 2017.
They shared their knowledge, their inspirations and exchanged their visions of trend evolutions considering consumer demand, retail expertise and contract market or new technologies. Four themes have been developed to express this spirit in 2018 home textile trend, which are: "Down To Earth", "Connected Senses", "No Borders" and "Re-Thinker".
In order to boost the growth of the China Home textile market, China Home Textile Association would like to invite exhibitors to submitted their exhibits and display in the trend area which is an outstanding display area to present your products to buyers, extend the exposure beyond your booth. It is definitely an additional promotion opportunity you won't want to miss!
Down to Earth

The trend is inspired by nature and the desire to connect with it. The tension generated by the increasing pervasiveness of digital screens and their sterility, leads to research an earthly connection, with roots and experience in nature.
The interest for the origin of materials, methods of production and use of resources increases, with a renewed interest, the local roots and typical characteristics. The elements of recycling, the wastes from producing of natural materials, are proposed again in unusual solutions. Poor and industrial products are juxtaposed to handcrafted applications. The evocative aspects of matter, its expressive aspects, are transformed from the mixture between synthetic and natural. The research of armony and symbiosis with the natural world guides materials to the exaltation of tactile, surfaces are however less rough and contemporary.
The colours indicate a particular attention to the natural world. They reflect the attempt to reconnect the surrounding environment and the increasing value of products created from recycled materials.
The palette consists of tonalities that convey calm and quietness, mixed with others expressing all the energy and vitality of the primitive environment.
Connected Senses

The digital revolution began with the transformation and transposition of an increasing number of "real life" activities in expressibile functions through digital entities.
Nowadays, the opposite trend is becoming more and more evident: the virtual is revealing itself in the physical world.
In response to the experience economy, the digital will incorporate more and more physical world and the so-called "phygital" will permeate the design to make it more realistic and emotionally fascinating. The concept of nature extends to include the wonders of virtual reality.
This technological change has modified the way we interact and contributed to modify the same perception of the world, changing the relationship between visible and invisible, material and immaterial. This change contributed to the birth of a new digital exoticism.
The trend examinates an hyper-digitalized nature , a new psychedelic imagery, both real and surreal.
The palette consists of mostly clear and cold tonalities which recall digital sceneries. Holographic colours occur and enhance in contrast with black or the dark red-purple colour.
No Borders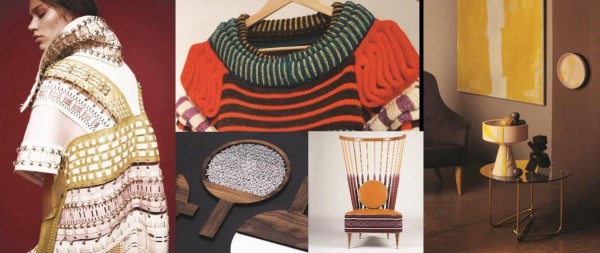 The multifaceted urban contest and the network are changing the way we perceive communities, identities and the way how we pass a cultural substance.
Lost into an omnivorous and composite mixture constantly projected in the totality, the culture and its projects have become transnational. While the risk is to level sensibilities and different heritages, on the other hand there is the opportunity to create something unexpected which refers to specific roots but has also assumed additional incentives and influences, coming to express the stratified complexity of urban contexts.
The coexisting variety makes an unusual contemporary and innovative reworked version of traditional and historical specific patrimonies, generating eclectic and hybrid modifications of traditional handicraft and contemporary design, between ethnic and urban. The shades that always remind of the tribal life evolve and integrate into new urban contexts.
Red and orange, traditionally very warm colours in these settings, change to colder tonalities influenced by the city environment. Dusty nuances of aviation blue and old rose complete the palette.
Re-Thinker

We are in a period of transition, we eliminate the excesses to come to the lightness of being. We discover again the value of timeless classics which are reinvented for the future. We have a conjunction of the memory to a future already existing. We manipulate the history of the object without considering its temporal connotations, enlarging its life and making the object more precious precisely by virtue of that intervention.
We invest in products that have style and quality characteristics and get better with passing of time. Products are made to last or they are introduced in the circular economy.
Materials and classic products are enforced by innovative finishings and performance materials: sustainability becomes sophisticated, handcrafted details are introduced on mass products. We will start to buy, to buy less.
The colors of this trend are mainly clear and delicate. The range goes from pale pink to cream and water-green, with darker colors and others deeper as claret, navy-blue or forest-green.