MADAME COCO brings refreshment to your bedroom with piques and stylizes your decoration with its original patterns. With its simple lines, the timeless lace or border detail MADAME COCO piques that you want to be in your bed every season change the air of your bedroom.
Pique suits, which can be used in all seasons and are indispensable for cool summer evenings, add an aesthetic appearance to your bedroom while adding joy to your sleep. Pique sets, which are often used as seasonal covers, offer a stylish alternative as bed covers thanks to their designs. MADAME COCO piques, which stand out with their elegant, simple and flashy models, change the style of your bedroom, and easily adapt to the decoration of your home with many different color and model options.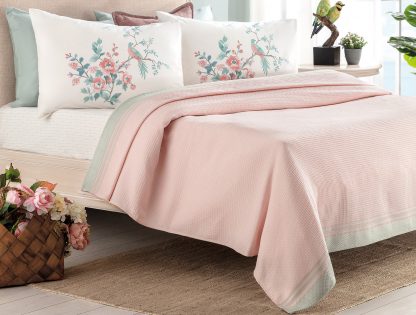 Piques complement to quality sleep
MADAME COCO piques, decorated with lace or border ribbons, which are the symbol of elegance, blend easily in any concept. Thanks to their cotton and thin structure, the sweat-free piques help you sleep quality and comfortable. While MADAME COCO piques color your bedrooms, they do not fade due to their 100% cotton texture and offer many years of use without pulling.
You can find single, double or king size piques at MADAME COCO, where products of different sizes and colors are available for lovers of sports or classic style.